We have recently carried out this project (entitled "How does a reggae sound-system work ?") an despatched it to São Polo, Brazil. This wooden panel especially requested for "Jamaica Jamaica" exhibition in SP, and was expressly and exclusively made for that occasion. Originally written in English, it was then translated into Portuguese. It features many sections representing some commonly used machines in the reggae/dub scene like : a Dub Siren, a Delay (Echo effect), an Active 4-way filter and a 10-Band Equalizer.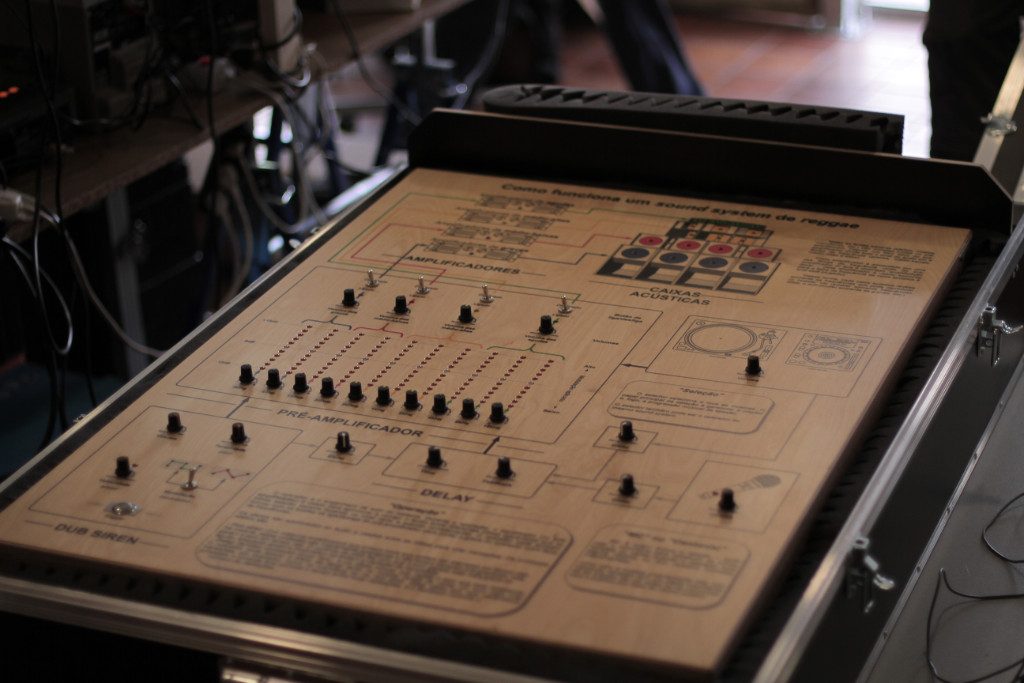 Every section has its own set of explanations to clarify how it does impact the sound and how it is usually used in the reggae/dub sound system context. In addition to that, the music that goes into this panel is directly impacted by the analog circuits inside it, so the visitors can become actors and turn every knob to hear in real time how it does affect the sound. Lights are also dynamically switched on and off according to the change in the sound, thus this gives a real interactive approach which makes the understanding of electronic and sound concepts easier for most people.
In detail
This project was a genuine and expressly custom made one : The team from Expomus in Brazil contacted us in early February 2018, they were very interested in the project but needed it to be ready for the end of February 2018, so that it could be despatched from Paris to Brazil with the rest of the exhibition. Therefore we had only 2 weeks to design the electronic circuits and graphic drawings, to receive all the components, to find a wood worker, to assemble every parts and to implement a few tests and make some adjustment ! Fortunately, we quickly managed to find a friend that did build the wooden panel for us. We intensively worked together during 1 week in order to build up the panel and the custom made flight case. Meanwhile, all the electronic circuits were designed and made. There was only one week left for the assembling and the testing work.
The sections
The panel is made up of a few sections aiming to represent the machines and the effects commonly used by reggae sound systems :
A 4-way Active filter with mute switches
A 10-Band Equalizer
A Delay (Echo) effect
A Dub Siren
The speakers & amplifiers
Also, it features a few inputs and allow to add effect on each of them :
Phono (Turntable only) Input
Line level Input (Accepts any line-level source, such as CD player, laptop, etc …)
Microphone Input (XLR Balanced)
The 4-way Crossover, Active Filter
It "separates" the sound into 4 frequency bands (Sub, Bass, Medium and Treble). Then one can then adjust the level of each band (to amplify or to attenuate each) or to totally mute it (Ligado, Desligado).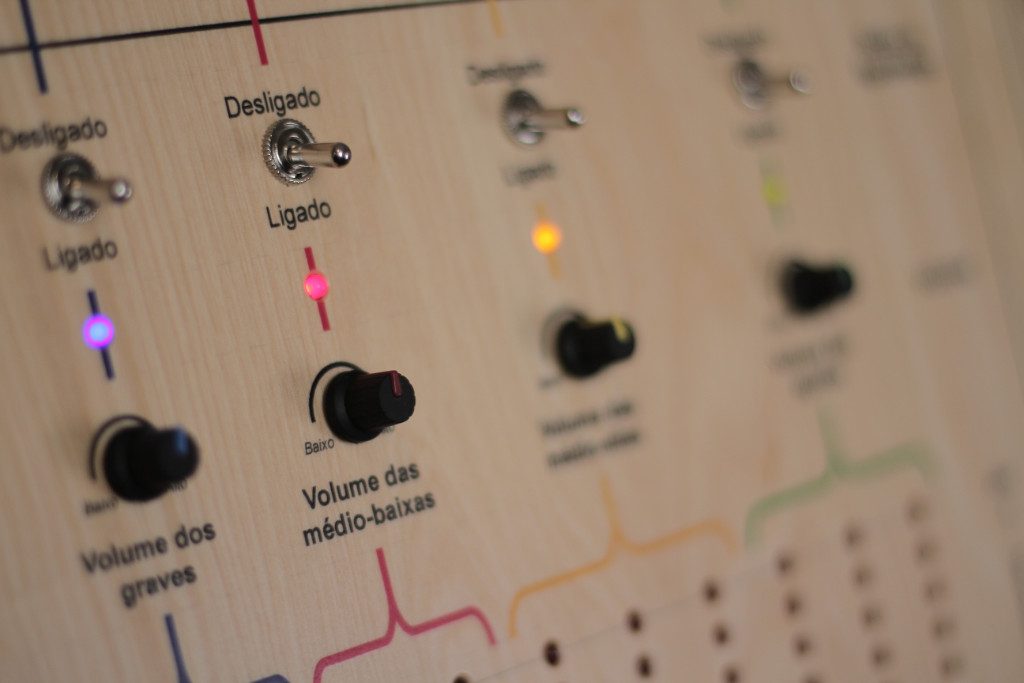 The Visual 10-Band Equalizer
Every knob controls the amount of the modification applied to a particular frequency. Turning it clockwise will amplify this frequency, turning it anti-clockwise will attenuate it. Each knob of the 10 has a column of LEDs that lights on or off according to the modification applied to the current frequency, which enables the user to visually see how the modification is applied.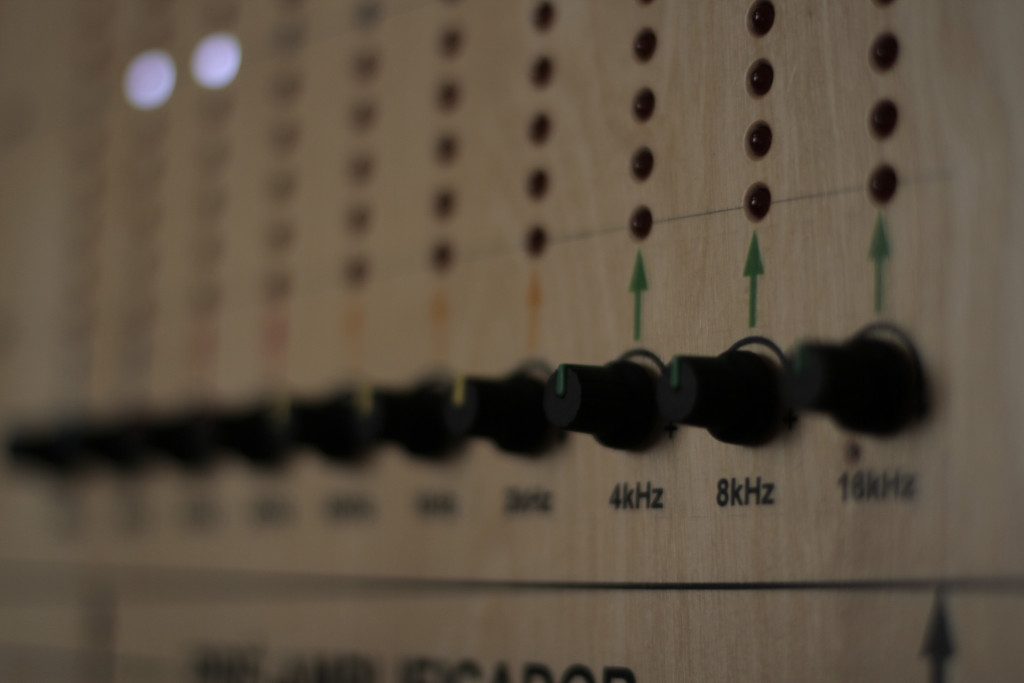 Dub Siren
The dub siren is a very typical instrument used by reggae Sound systems. It is a pitch-modulated sound generator. We decided to integrate this feature into our panel as this is a very commonly used effect in the reggae & dub scene. It is generally used in transitions between musics, one can change several parameters of the generated sound, and then trigger the sound by pushing the "Trigger" push button.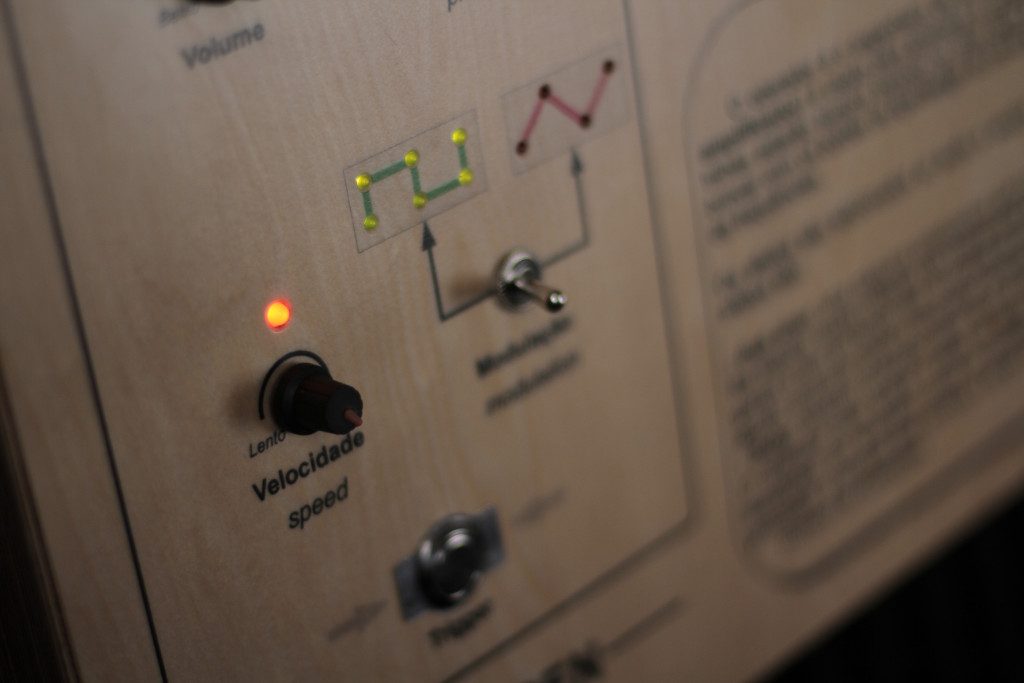 Speakers & Amplifiers Display
The overview of a Sound system stack is printed at the top of the panel. In a 4-way active speaker system there are 4 types of speaker cabinets, each type has its own amplifier (or amplifier set) and is driven by a signal containing only the frequencies that it can reproduce. e.g. : A tweeter will only reproduce the treble frequencies, and will probably be blow out if you send through it bass frequencies. That is the reason why the bass frequencies need to be filtered out in order to let only the treble frequencies go into the amplifier and thus into the treble speaker
For custom requests, please do not hesitate to contact us.